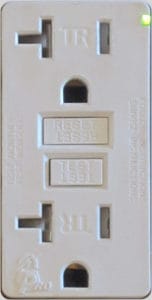 Electrical safety is something we bring up often in our blogs, and for good reason! Being smart – and safe – when it comes to working with electricity is critical for any homeowner, business owner, or DIYer. Ensure safe electrical outlets are installed in your home or business.
Since 2008, the National Electrical Code has required all outlets at new installations be tamper proof. Sadly, each year 2,400 children in the United States are electrocuted, burned, or even killed by sticking items in electrical sockets.
To prevent accidental electrocution, several improvements have been made to make outlets safer for children and adults alike.
Ground-Fault Circuit Interrupter
One improvement, invented in 1961, is the ground-fault circuit interrupter (GFCI). You've likely seen a GFCI before — they're the wall sockets with reset buttons on them. The National Electric Code requires they be installed in all new bathrooms, crawl spaces, kitchens, most outdoor receptacles, and unfinished basements.
GFCIs work by monitoring the difference between the current going into and out of an appliance. If that difference is greater than 5 milliamps, the GFCI shuts off the electrical flow. This difference in flow indicates a possible ground fault, meaning electricity is being directed through a source other than the wiring – that other source possibly being your body.
Tamper-Proof Wall Outlet
Another improvement is the tamper-resistant wall outlet. These are the outlets with spring-loaded shutters inside them that must be compressed at the same time to gain access to the electrical system. The National Electric Code not only requires these outlets at new and renovated homes but at other properties where children are likely present.
If you have children, are remodeling, or simply want to make your home or business safer, you should consider replacing any existing outlets, especially old, two-prong versions, with safer GFCI and tamper-proof versions.
There's no reason your house's electrical system should pose a hazard. If you're concerned about your current wall outlets or electrical system in general, contact your local electrician to schedule an inspection.