LED bulbs are on track to replace CFLs as the lighting method of choice. They're more energy efficient than CFLs, they last longer, and they don't contain mercury — a poisonous heavy metal used to create CFL lightbulbs. However, although LEDs don't contain mercury, they do contain other toxic substances, of which consumers are largely unaware. Because LEDs so have toxic substances, it's important to know how to safely dispose of LED bulbs.
LEDs are a Good, Energy-Efficient Choice for Lighting
First, it's important to note that LEDs are excellent choices for lighting. They're 90 percent more efficient than incandescent light bulbs. That efficiency means homeowners who replace incandescent lights with LED bulbs will save on average $4 per year per bulb per year, which over the lifespan of a LED bulb amounts to $163 saved. And that's with an estimated LED bulb price of $8.
But LEDs are much less expensive than they were even in recent years. 60-watt equivalent bulbs currently average between $1.50 and $2.50 per bulb on Amazon, making them very affordable.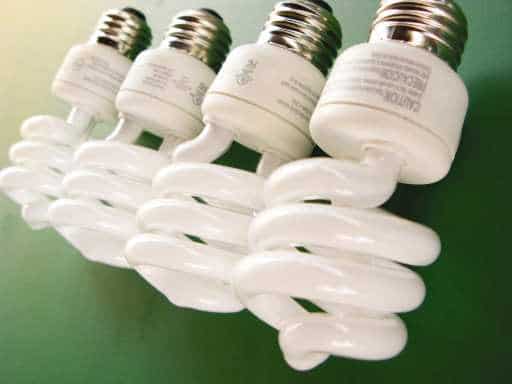 LEDs also outshine their CFL cousins, literally. CFL bulbs, though still much more efficient than incandescent bulbs, consume more energy than LEDs. And they're notorious for not shining at full brightness for several seconds after being switch on. Plus, homeowners cannot control these bulbs with dimmer switches, something they can do with LED lights.
Besides all this, although LEDs do contain toxins, aren't by considered toxic by law, which means you can dispose of them at the landfill (although we encourage recycling).
LED bulbs are simply the best choice on the market for residential and commercial lighting needs, and no home- or business owner should shy away from installing them. Quite the opposite — they should be looking to retrofit their residence if they haven't already.
Toxins in LED Lights
Going with LED lights for their benefits doesn't mean ignoring safety. It's well known that LEDs contain lead, arsenic, and other potentially harmful substances. A study published in 2010 in Environmental Science and Technology specifically identified low-intensity, red LEDs as most often containing the highest amount of toxic materials. The study identified white LEDs as having the last amount of lead but still containing nickel, another heavy metal.
Disposing of Broken LEDs
The study therefore suggests that people treat broken LEDs as hazardous materials. If an LED lightbulb breaks in your home or workplace:
Put on protective gloves and sweep up the LED pieces into a plastic bag using a stiff piece of cardboard (if you use a broom, consider disposing of the broom after using it).
Next, use sticky tape to pick up any small fragments left over. Put the tape with the fragments into the plastic bag.
When all the pieces are picked up, place the bag in a sealable container.
Because LEDs aren't considered toxic by law, you can dispose of the fragments with other landfill materials. If you want to dispose of them in a more environmentally manner, contact your local municipal agency for instructions.
Municipal agencies in central Indiana include:
If your LED bulb has simply dimmed out (LEDs don't burn out; they emit less light over time), you can either throw it away or recycle it at a local recycling center, via an online recycler, or with a local retailer who accepts LEDs.
If you're looking to retrofit your business or otherwise want LED lighting, contact Grounded Solutions to learn how we can meet your needs.